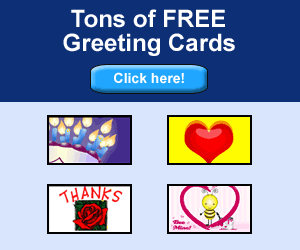 Download 1000+ FREE Fun Greeting Cards here so you'll always be ready to send one to your friends or family whenever there's a birthday, holiday or special occasion coming up.
Send as many fun e-cards as you want, each with your own personal message. Send birthday cards, funny cards, seasonal cards, get well, or party cards! Just when you thought it was too late to send Mom something nice for Mother's Day, BOOM, she gets a hilarious greeting in her inbox that morning, and you didn't even have to roll out of bed. For your girlfriend or boyfriend, there are lots of sweet Valentine's Day cards available. Even if you've already bought them a present, a nice card in their email is a great way to top it all off.
Get in the spirit of other random holidays too, like St. Patrick's Day, Halloween, or even Boss's or Secretary's Day! Even though nobody likes to physically handwrite and mail paper cards these days, they still love to hear nice words, or that you're thinking of them at a random time. Imagine how good YOU would feel if someone took just a few minutes to send you more than a Facebook status update on your birthday, and instead took the time to pick out and click on a unique e-card online. It really is the little things that count, and these email greeting cards are just what most people need in a world of inbox spam and insincerity.
It's all completely FREE, and new fun cards are added to MyFunCards all the time! This is the one program you're going to use all the time, and your friends and family will thank you for it. Go ahead and get in the spirit of sending thoughtful wishes.
Download your FREE Fun Cards now...